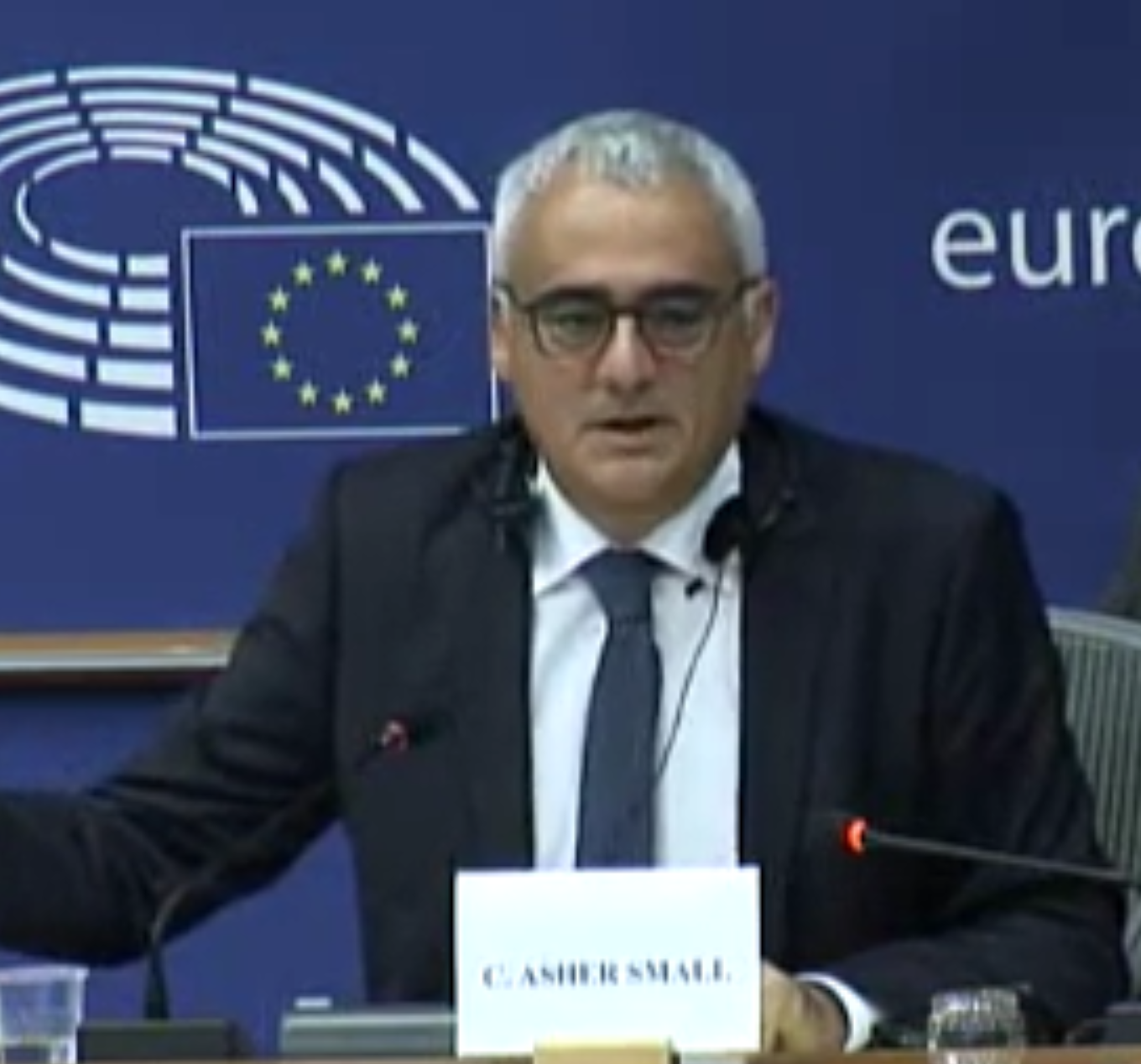 Dr. Charles Asher Small is a prominent scholar and public speaker, specializing in the fields of contemporary antisemitism, including the delegitimization of Israel and notions of Jewish Peoplehood, social and cultural theory, globalization and national identity, social movements, Political Islam, and racism(s) – including antisemitism(s).
Dr. Small received his Doctorate of Philosophy (D.Phil) from Oxford University and is currently a Senior Research Fellow at the Moshe Dayan Centre for Middle East and African Studies at Tel Aviv University.  He was previously the Koret Distinguished Fellow, the Hoover Institution, Stanford University. Dr. Small is the Founding Director of the Institute for the Study of Global Antisemitism and Policy (ISGAP), a non-partisan, international and interdisciplinary research center dedicated to the study of contemporary manifestations of antisemitism. ISGAP is the only research center dedicated to combatting antisemitism on the "battlefield of ideas" (in the classroom) and creating a safe space for faculty and students to study, analyze, debate and engage this issue in a scholarly manner.  In addition, ISGAP organizes strategic research projects, and provides in-depth practical analyses and intelligence to help guide the fight against antisemitism worldwide.
Dr. Small convenes groundbreaking academic seminar series, conferences and programming in the emerging field of contemporary antisemitism studies at Harvard University, Yale University, Columbia University, Stanford University, Fordham University, McGill University, University of Miami, La Sapienza University in Rome, the Sorbonne in Paris, the National University of Kyiv, the CNRS (the French National Center for Scientific Research or Centre national de la recherche scientifique), and other top-tier universities around the world. He also organizes an innovate, cutting-edge professor training program at Oxford University which trains professors from all over the world to teach courses on contemporary antisemitism at their respective universities upon completion of the course for academic credit. (Click here for a short video about the ISGAP-Oxford Summer Institute for Curriculum Development in Critical Antisemitism Studies).
He has lectured throughout the world as an expert scholar on antisemitism at universities, the European Parliament, United Nations, Israeli Knesset, Organization for Security and Co-operation in Europe (OSCE), the Kigali International Forum on Genocide, as well as the Australian, British, Canadian, Chilean and Italian Parliaments, and German Bundestag, various leading think tanks in China and India, Europe and the Americas.  Dr. Small submitted evidence to the British and Canadian All-Party Parliamentary Inquiries into Antisemitism and continues to help inform public policy. He has also served as a consultant and policy advisor in North America, Europe, Southern Africa, and the Middle East.
Dr. Small was the founding Director of the Yale Initiative for the Interdisciplinary Study of Antisemitism (YIISA), the first interdisciplinary research center on antisemitism at a North American university. At Yale he taught in the Political Science Department, as well as a Program on Ethics, Politics and Economics, and ran a post-doctorate and graduate studies fellowship program at YIISA. He was also an Associate Professor and the Director of Urban Studies at Southern Connecticut State University (SCSU), as well as an Assistant Professor at Tel Aviv University in the Department of Geography.
He is the author of numerous books and articles including; The ISGAP Papers: Antisemitism in Comparative Perspective (2016); The Yale Papers: Antisemitism in Comparative Perspective (2015);  the six volume Global Antisemitism: A Crisis of Modernity (2013)and Social Theory – a Historical Analysis of Canadian Socio-cultural Policies Race and the Other (2013).
Dr. Small received his Bachelor of Arts in Political Science, McGill University, Montreal; M.Sc. in Urban Development Planning in Economics, Development Planning Unit (DPU), University College London; and a Doctorate of Philosophy (D.Phil), St. Antony's College, Oxford University. He completed post-doctorate research at the Groupement de recherche ethnicité et société, Université de Montréal. He was the VATAT Research Fellow (Ministry of Higher Education) at Ben Gurion University, Beersheva, and taught in departments of sociology and geography at Goldsmiths' College, University of London; Tel Aviv University; and the Institute of Urban Studies of Hebrew University in Jerusalem.
He was the Chairperson of the African National Solidarity Committee of Canada and worked with the African National Congress. He was also active in the student struggle for Soviet Jewry, as well as the struggle for Ethiopian Jewry.  Dr. Small is committed to safeguarding human rights and democratic principles and conducting scholarly programming and research on contemporary antisemitism at top tier universities internationally, as well as establishing contemporary antisemitism studies as a recognized academic discipline.
Dr. Small's mission exemplifies the words of Professor Elie Wiesel, the first Honorary President of ISGAP, who said: "I swore never to be silent whenever and wherever human beings endure suffering and humiliation. We must always take sides. Neutrality helps the oppressor, never the victim. Silence encourages the tormentor, never the tormented."